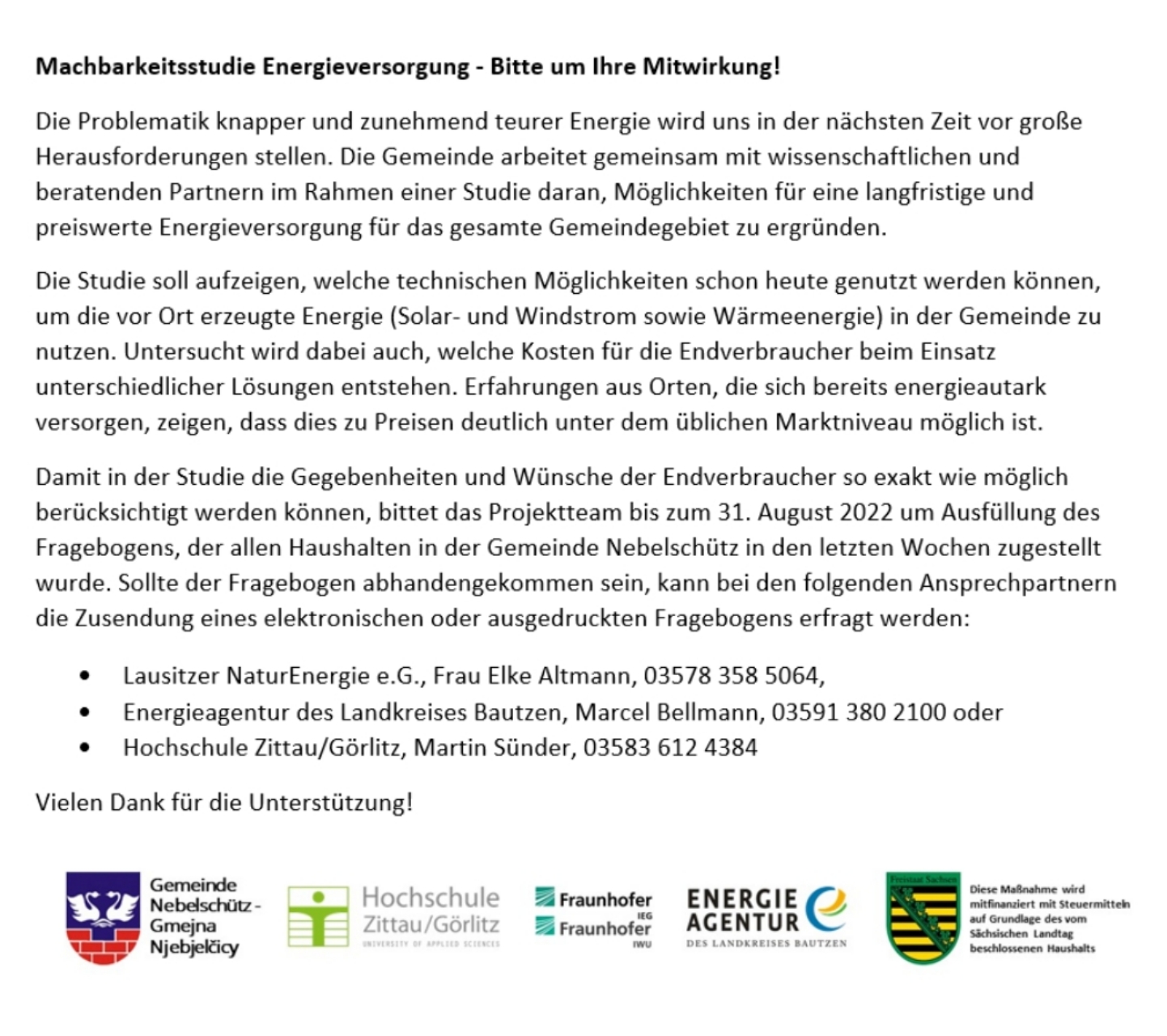 Information event on the preparation of the feasibility study
On the evening of 22 February 2022, the preparation of the feasibility study for a sustainable energy supply for the municipality of Nebelschütz was presented to the public in the municipal council hall. The study is to show whether the visions from the community energy concept for a sustainable and grandchild-friendly supply are technically and economically feasible. This guarantees that the later implementation will pay off for all citizens and the local businesses.
After the mayor's welcome, Mr Bellmann from the Bautzen District Energy Agency presented the project. Mr Wilhelm-Kell then gave an overview of the energy transition in the electricity sector, Dr Schneider from Fraunhofer IEG in Zittau reported on the possibilities of using renewable energy sources in the heating sector and Dr Schmidt from Fraunhofer IWU provided information on the possible forms of storing electricity and heat for short or longer periods. In the subsequent exchange with the participants, their concerns were recorded in order to take them into account in the feasibility study.
All presentations can be downloaded here:
If you have any questions, please contact Marcel Bellmann from the Bautzen District Energy Agency by telephone (03591 380 2100) or by e-mail (This email address is being protected from spambots. You need JavaScript enabled to view it.).
As a model municipality for an energy supply suitable for grandchildren
Since 01.01.2022, a project consortium consisting of the Zittau/Görlitz University of Applied Sciences, the community of Nebelschütz/Gmejna Njebjelčicy, the private energy consultant Hannes Wilhelm-Kell and the Energy Agency of the Bautzen district has been preparing a feasibility study for a "grandchild-friendly" energy supply in the community of Nebelschütz/Gmejna Njebjelčicy. On 10. and 14.01.2022 the kick-off meetings took place to coordinate the first activities.
In 2021, the participants had submitted a project outline to the Free State of Saxony via the funding guideline "Sustainably out of the crisis" and, following a positive decision, submitted the formal funding application to the saxonian structural bank (Sächsische Aufbaubank). In a total of 7 work packages, it will be investigated by the end of 2022 how the plans of the community of Nebelschütz/Gmejna Njebjelčicy for a grandchild-friendly economy with a supply from environmentally friendly energy sources are technically and economically feasible. All this will be done with the participation of all local stakeholders in order to attract potential investors. First, the current state of energy demand and energy production in the community is analyzed. Subsequently, conceptual considerations for future energy production based on renewable energy sources, their use and storage are made. The possible concepts will then be evaluated technically and economically. With the help of a guideline, it should be possible for other municipalities to follow the example of Nebelschütz. The feasibility study will be completed by the end of this year.